It's simple. In the western United States, heat begets fire. As of June 26, 27 large fires are burning in 10 states. The worst situation is in California, where years of drought and tree death combined with temperatures above 100 degrees have contributed to six large fires. Here's a look at some of the fires and some things we can learn from them.
Erskine (Calif.)
"It was a firestorm," one evacuee from the fire in South Lake, Calif.,
told the Los Angeles Times
in an elementary school/evacuation center. He didn't know if his house was still standing. The
fire blasted into existence
the afternoon of June 23. Fed by a 40 mph wind, temperatures above 90 degrees and bone-dry grass, it traveled 11 miles in 13 hours.
It burned through power and phone lines
, knocking out both landline and cell phone service. Sheriff deputies, going door-to-door to warn residents,
had to run from the fire
. A couple died trying to escape. Three firefighters were injured. So far, more than 225 buildings and almost 60 square miles have burned. Another 2,500 homes are still threatened and six communities evacuated. The fire is only 10 percent contained, and
evacuees may not return home
because of fears wind shifts could send the fire in different directions. When it comes to fire, be prepared to run for it. Have go-bags packed and in an accessible place. An evacuee, Magan Weid,
told the Los Angeles Times
, "Everything was flying into your eyes. I didn't have time to get glasses. I literally just grabbed a bag with miscellaneous crap. I didn't have time to get anything together." Include prescription medicines and copies of prescriptions. One evacuee worried because she and her husband left without his heart medication. "I don't know where to go,"
she told the Los Angeles Times
. Have copies of
vital records
. In her haste, one woman left behind her Social Security card and birth certificate. All she had were her pajamas and contents of her car. Keep a full tank of gas. One man said he and his neighbors created a mini traffic jam in their haste to leave. Another jumped into his car only to discover its tank was low. Fortunately, he made it out.
Reservoir/Fish (Calif.)
Dual fires northeast of Los Angeles
have burned about 5,000 acres since June 20. 858 homes were evacuated. On June 22, residents of 534 were allowed to go home. When you're preparing to evacuate, be prepared for a
long stay
. Have something to do in your go bag. Have a way to recharge a phone. Make sure you've got a place for pets. Many shelters won't allow pets unless they're service animals.
Dog Head (N.M.)
[caption id="attachment_20702" align="alignright" width="300"]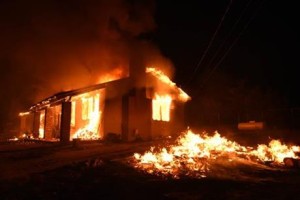 Home burning - photo via AP[/caption] The Dog Head fire in central New Mexico burned almost 18,000 acres and destroyed 12 homes and 44 other structures. It is
90 percent contained
. It could have been worse if thinning out dead trees had not taken place, said U.S. Forest Service Chief Tom Tidwell, who toured the area June 24. In California, according to a
report released June 22
, 66 million trees have died in the last five years, and only 77,000 have been cut down. If you live in wildfire country,
clear an area
about 30 feet around your home of anything that might burn, like wood piles, dried leaves, and brush. Keep the roof and gutters clean.
Saddle (Utah)
Lightning on June 13 caused the Saddle fire in southern Utah. A voluntary evacuation is
still in place
for the nearby town of Pine Valley. The fire spread in part because three times in a week, drones grounded firefighting aircraft. Don't be stupid. This time of year, as temperatures climb and vegetation dies, the western U.S. is a tinderbox.
Fire restrictions are in place
in southern Utah and Arizona. Obey them. Don't do anything that
might ignite dry vegetation
. When there is a fire, be aware of emergency vehicles.
Cedar (Ariz.)
Firefighters are beginning to consider the aftermath of the
Cedar fire
, which has been burning since June 15. The fire, which burned 46,000 acres, was 60 percent contained Sunday. It burned during a period of
horrendous temperatures
. Six people died from heat. Temperatures exceeded 120 degrees in parts of Arizona.
Ready.gov
has several suggestions for keeping safe during extreme heat.
Excessive heat warnings
and heat alerts are still in effect in many places in the west. Be smart and be safe, especially during the holiday weekend ahead.