Take a look at this map from the
Federal Emergency Management Agency
. It shows how often U.S. counties have experienced a hurricane or tropical storm. Colored areas represent hurricane impacts. Notice how far inland the map goes: counties in Utah and Nebraska have experienced the remnants of tropical storms and hurricanes.
Hurricane Sandy
in 2012 was a great example of the broad reach of a hurricane. It affected 24 states – half the continental U.S. It was the second-most devastating hurricane in U.S. history, killing 157 people and causing $71.4 billion in damage. Even if you live inland, it's useful to Replace out if you might be susceptible to a hurricane's reach.
"
Your risk from hurricanes is based on where you live, the structure of your home, and your personal circumstances," said FEMA's
How to Prepare for a Hurricane
. Flooding is the greatest problem when hurricanes head inland. To prepare, check your flood risk with
FEMA's flood mapping tool
. Buy flood insurance in addition to regular insurance. Regular insurance will usually cover water damage from precipitation and wind. It won't usually cover flooding. Buy it early. Flood insurance doesn't take effect until 30 days after its purchase. If you live in an area that can be flooded, have an evacuation plan with a place to go and alternate routes to get there. Make sure animals are provided for. Many shelters won't take pets.
FEMA recommends
you plan to evacuate the "5 P's": People (and pets), Prescriptions, Papers, Personal items and Priceless items. Hurricanes can create snowstorms.
Hurricane Sandy
combined with polar air to dump at least a foot of snow in more than half of West Virginia's counties. The heavy snow collapsed buildings and toppled trees.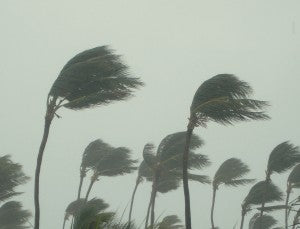 Hurricanes can create thunderstorms, hail and tornadoes thousands of miles from landfall.
Hurricane Patricia
, the largest tropical cyclone in the western hemisphere, hit western Mexico in October 2015. Although it dissipated quickly, storm remnants crossed Mexico and whacked Texas. Houston got 9.4 inches of rain in 24 hours, and a tornado touched down near the city. Hurricanes can bring wind far inland. Wind gusts from Hurricane Sandy measured 60-70 miles per hour around the Great Lakes. Flying debris hit killed a Toronto, Canada woman. It's possible to
prepare a home
for all these weather events. Clean gutters and drains and waterproof a basement. Prepare for wind by removing diseased and damaged tree limbs. When hurricane remnants are in the forecast, store or tie down outdoor furniture, decorations, trash cans and anything else that wind can turn into a projectile. Also, close curtains or blinds. If windows do get broken, this will prevent shattered glass from scattering in the home. Finally, be prepared for power outages. Hurricane Sandy left more than 9 million utility customers without power. Two weeks later, more than 6 million in 15 states and the District of Columbia were still without electricity. "Depending on the strength of the hurricane and its impact on your community, you could be in your home with no power or other basic services for several weeks,"
FEMA wrote
.
Ready.gov suggests
ways to prepare for power outages. Have a fully stocked emergency kit including food and water, a flashlight, batteries, cash in small bills and first aid supplies. Keep a cell phone and other battery-powered devices charged and have an alternative charging method. Those who use a power-dependent or battery-operated medical device should have a backup power plan and tell their local utility so it can prioritize their home. Keep the car's gas tank full and know how to manually release an electric garage door opener. A vehicle can be a power source, but not in an enclosed space. Before a major storm, buy dry ice. Fifty pounds will keep a fully stocked fridge cold for two days. Without it, an unopened fridge will keep food cold for only about four hours. Finally, prepare for price increases.
Hurricane Ike
, the third-most costly storm in U.S. history, brought an "Ike Spike" in gas prices all the way into Canada. In July 2015, former
Hurricane Dolores caused record rainfall and flooding
in southern California and Arizona. Yet the closest the center of the storm got to California was 300 miles west of Baja. At the time, it too weak to even be considered a tropical storm. What was left of Dolores caused
flash flood watches
in Nevada and farther inland. It just goes to show that coastal areas aren't the only places that should prepare for hurricanes.