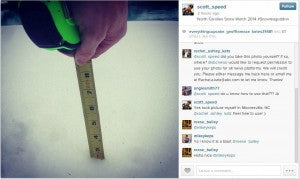 According to Accuweather.com, "A snow and ice storm will severely impact travelers and residents from northern Georgia to the Carolinas into Wednesday night." This storm is even expected to stretch into Virginia and parts of Tennessee. It's been reported that this could be one of the worst ice storms for parts of the South in more than 10 years. Recently the South has experienced massive ice and snow storms, uncharacteristic to the region. Two weeks ago, Atlanta, Ga. was hit hard by an expected storm that stranded thousands on the road overnight. Now, many residents are vowing not to get caught off guard again.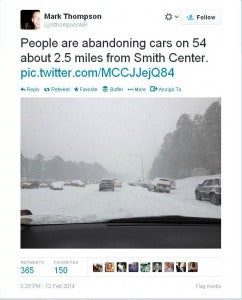 Lisa Nadir, a resident of Acworth, Ga., stated in a My Fox New York article, "Last time I was totally unprepared, I was completely blindsided….I'm going to be prepared from now on for the rest of my life." Nadir sat in traffic for 13 hours and spent the night in her car on Jan. 28
th
when the first major storm hit. Like Nadir, many Georgia residents are preparing for this big, new storm. Wednesday afternoon, the business sector of downtown Atlanta was found deserted as many residents stayed home. Reluctant to experience a similar traffic jam as they saw two weeks ago, these residents are making a change to avoid being caught on gridlocked roads for hours.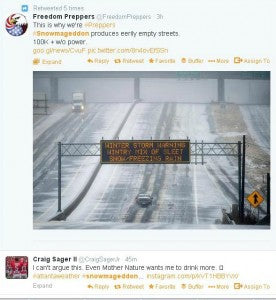 On Wednesday morning, over 2,000 flights coming in and out of Atlanta International Airport were cancelled. And there are several images on Twitter from the
New York Times
and the
Weather Channel
showing grocery store shelves that have been practically picked clean as people stock up for the storm.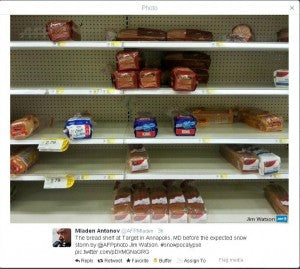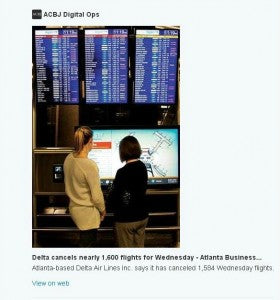 Two major concerns with this storm are icy roadways and power outages. Freezing rain, sleet, and snow could (once again) leave many stranded on the road. And the weight of ice on tree limbs could cause them to fall onto power lines, creating widespread power outages. Take some cues from the spirit of preparation that many in Atlanta now have; prepare yourselves for winter storms with the following articles and products: