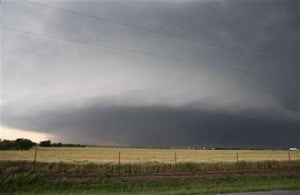 Last Friday, the second deadly EF5 tornado in a two week period hit Oklahoma, this time near the city of El Reno. The tornado was a record-breaking 2.6 miles wide, with winds up to 295 miles per hour. Fortunately, the storm didn't affect most of the developed areas of El Reno.
El Reno Mayor Matt White said that while his city of 18,000 residents suffered significant damage — including its vocational-technical center and a cattle stockyard that was reduced to a pile of twisted metal — he said it could have been much worse had the violent twister tracked to the north.
"If it was two more miles this way, it would have wiped out all of downtown, almost every one of our subdivisions and almost all of our businesses," White said. "It would have taken out everything."
Everyone is grateful that the majority of the town was spared. Still, 18 people died from the tornado and the flooding it caused. Our condolences and heartfelt prayers go out to all those who lost loved ones or who were affected in other ways. Photo credit: AP Photo/Alonzo Adams, File