When the sky goes dark and the winds pick up, should you be worried about a tornado? Depending on where you live, maybe you should be. But not every thunderstorm produces tornadoes. So how are you supposed to know when it's time to Replace shelter as opposed to sitting down with a blanket and hot coco? One of the best ways is to follow your local weather forecast for alerts. There are two in particular that are important to know regarding tornadoes: Watch and Warning.
Tornado Watch
When your local weather team issues a tornado watch, it means that conditions for a tornado are favorable. Much like bird watching, people are searching the skies for a glimpse of a tornado. So far, however, nobody has spotted one. But just because it hasn't been spotted yet doesn't mean it won't ever form. When a tornado watch is issued for your area, use that time to inspect your emergency supplies, review your emergency plans, and make sure you have a safe room you can get to in a moment's notice. Tornado watches can cover a large area, so don't be surprised if a tornado does come, just not to your neighborhood (or, on the other hand, it does come for a visit).
Tornado Warning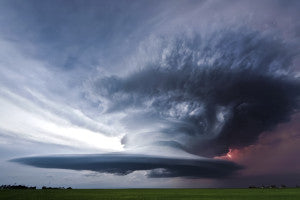 Danger! If you receive a tornado warning, it means a storm is quickly on approach. But it's not just any storm. This one indicates there is a
strong rotation
as picked up by
Doppler Radar
. That, or there has been a confirmed sighting of a tornado. This is the time to take shelter immediately. Get to your safe room or otherwise
shelter in a safe place
. Life and property are considered at imminent risk during a tornado warning, so there is no time to delay in retreating to safety. Steer clear of windows and outside walls. Move inward and to the lowest level of the building as possible. Do not use an elevator – use stairs. Unlike tornado watches, warnings cover a much smaller locale, so if you are within the area specified, you definitely need to take action. Being aware of the weather around you is one of the many ways of staying safe. Since you may not always have power during these storms, it's smart to have an emergency weather radio on hand so you can keep tabs on what's going on outside, and if there are any tornado watches or warnings in effect. When storms pick up, stay alert and aware of the weather going on outside – especially if you live in a tornado-prone area. Knowing what the difference is between a tornado watch and a tornado warning can make all the difference when it comes to weathering the storms around you.