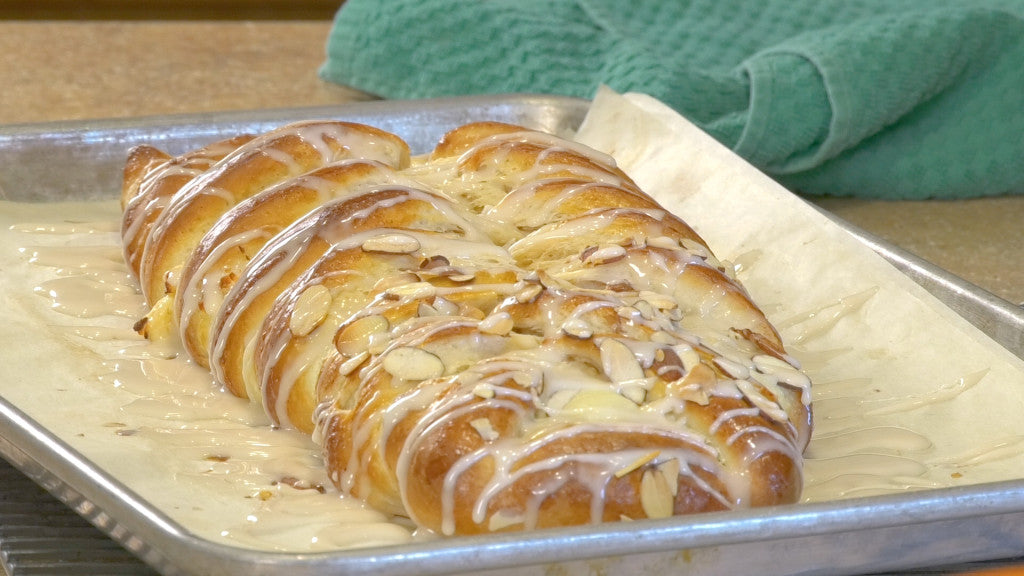 Need a quick dessert and don't have time to go to the store? Never fear, Chelsey Crockett is here to help you make a mouth-watering tropical danish using ingredients from your long-term emergency food storage. Follow along with her in this video and let us know how it turns out!
Tropical Cream Cheese Danish
By: Chelsey Crockett
Prep: 65 min | Cook: 20 min | 8-10 Servings
Ingredients
Pastry Dough:
3 Cups Emergency Essentials Honey White Bread, Roll, and Scone Mix 1 Cup Warm Water 1 Package Cream Cheese 1 Tbsp. Active Dry Yeast 2 Tbsp. All-Purpose Flour 1 tsp. Vanilla Extract
Cream Cheese Filling:
1 Package Cream Cheese 1/3
rd
Cup Sugar 1 Egg 1 Tbsp. Sour Cream 1 tsp. Vanilla Extract
Additional Fillings:
1 Cup
Emergency Essentials Pineapple
, rehydrated, drained, and chopped 1 Cup Sweetened Flaked Coconut ¼ Cup Sliced Almonds, for garnish
Egg Wash:
1 Egg, whisked
Glaze:
2 Cups Powdered Sugar 2-4 Tbsp. Milk, depending on desired consistency
Directions
Step 1: Make the Pastry Dough
Preheat your oven to 400° F. Using the dough attachment on a stand mixer or food processor, combine 3 Cups of Bread Mix, 1 pkg. cream cheese, 1 cup of water, 1 Tbsp. yeast, 2 Tbsp. flour, and 1 tsp. vanilla. Mix at a medium speed until the dough is smooth, about 5 minutes. Butter a large stainless steel or ceramic bowl. Remove dough with a rubber spatula—dough will be sticky. Refrigerate dough in buttered bowl for at least 45 minutes to make it easier to handle.
Step 2: Prepare the Fillings
To rehydrate the pineapple, combine 1 Cup Emergency Essentials Pineapple with two cups of hot water. Let sit 5 minutes, then drain and chop finely. To make the cream cheese filling, combine 1 pkg. cream cheese, 1/3
rd
cup sugar, 1 egg, 1 Tbsp. sour cream, and 1 tsp. vanilla extract. Whip with a wire whisk until the mixture is free of lumps. Set aside chopped pineapple, coconut, and sliced almonds.
Step 3: Create the Pastry
Working on a floured piece of parchment paper, roll out the refrigerated pastry dough until it is about ½ an inch thick. Try to keep the piece of dough as rectangular as possible. Working lengthwise, spread the cream cheese filling mixture down the center of the pastry (leaving about 4 inches on either side), and then add chopped pineapple and sweetened coconut on top. After the fillings are in place, cut 1" strips into the dough diagonally down each side, with the cuts pointing downwards. Fold the top part of the pastry down to cover the top part of the filling, and then start folding the strips on the side inwards to cover the inner part of the pastry. Alternate sides as you fold to create a braided look. When you get to the bottom part of the pastry, pinch the dough shut to avoid having the pastry open in the oven. Using a pastry brush, spread an egg wash mixture over the top of the pastry, then add almonds to garnish the top.
Step 4: Bake Until Golden Brown
Lift the entire pastry by the parchment paper onto a jellyroll pan, and then bake at 400° F for 20-25 minutes, or until golden brown and cooked through.
Step 5: Glaze and Enjoy!
Mix 2 cups powdered sugar with milk until the mixture is smooth. Stiffer glazes are more difficult to pipe but provide more of a crunch, while thinner glazes add a more delicate finish and taste. Choose your desired consistency and pour the mixture into a sandwich-sized plastic bag. Twist the top of the bag to trap the frosting, and then snip off a small section of the corner to turn it into a pastry bag. Pipe glaze over cooled danish in a striped pattern. Cut into slices and enjoy!