We've got great water technology of our own at Emergency Essentials. A monster of a water storage container. I'm not kidding—it's huge. It holds 160 gallons of water (that's the equivalent of three 55-gallon barrels) while taking just 7.2 square feet of floor space. It's called the
160 Gallon Water Reserve
.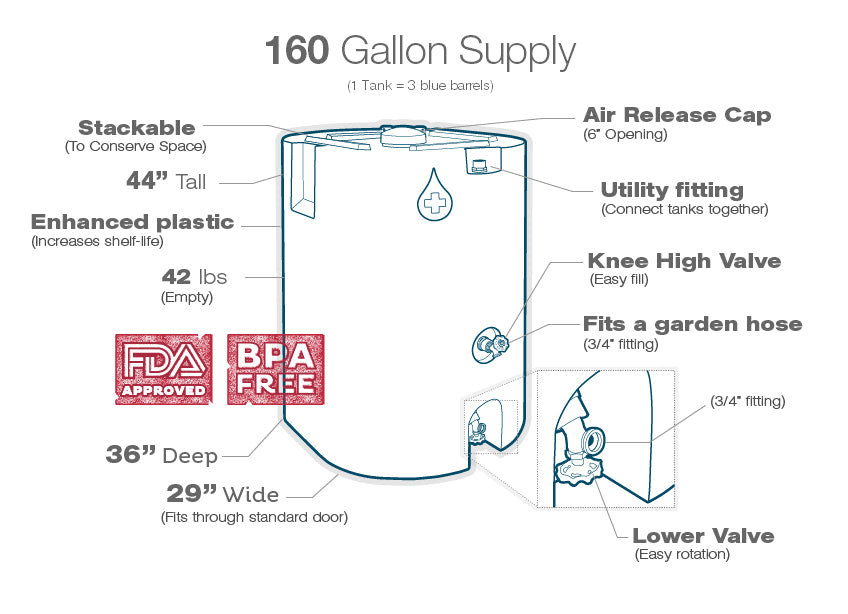 Here are some quick reasons why we think the
Water Reserve
is so great (and why we're sure you'll think so, too):
It's made with BPA-free plastic.
The plastic has been enhanced with UV resistance properties (more sun protection!) to increase the life of your water and the life of the barrel itself.
It's FDA and NSF approved.
It's stackable (up to two high).
It fits through a standard door frame so you can put it just about anywhere.
In reality, you should be storing water even when there's no drought in sight. If a disaster or emergency were to hit your city, it could be a while before potable water (water that's safe to drink) became available. For example, after Hurricane Sandy, it was a month before some areas could use their tap water without boiling it first. Consider the following: The
minimum
recommended amount of stored water per adult is 1 gallon per day. That's 14 gallons for two weeks. Per adult. And that's going easy on your water.
FEMA guidelines
tell people to use ½ of the gallon for drinking and ½ for cooking and washing. On one gallon of water per day you're gonna feel like you're camping, even if you're still living in your house. If you have a family of 4 (two adults and two children under 12) you'll need at least 4 gallons of water daily. That's if you don't have to wash up any sticky hands, muddy feet, or poopy diapers/clothing. Or flush the toilets. We recommend that you count your kids as adults; you'll definitely be able to use the "extra" water. So if you were to store four gallons a day, times 14, you'll have 56 gallons of water. You may have a bigger family, or pets. You'll probably also want to drink more water, wash dishes, do a little laundry, wash your hair, flush toilets, and not feel pressured to conserve so strictly. You're gonna need more water than you think. You'll also need more water if your food storage is built on freeze dried and dehydrated foods. Most food storage is. Generally the food requires less than a cup of water per serving, but you should still factor that info your water supply needs. With the Water Reserve you don't have to rotate your water as frequently, especially if it's stored properly. And when you do want to access the water there are two taps—in addition to the hose outlets—for easy access. The Water Reserve is an innovative solution to many of the common water storage troubles. Get your
Water Reserve
from Emergency Essentials and save on shipping. Here are three articles that give you good information on the basics of storing water.
SOURCES:
http://www.health.ny.gov/environmental/water/drinking/boilwater/sandy/#s1
http://www.metroblooms.org/bloomsblog/2012/10/31/hurricane-sandy-effects-water-quality/
http://water.usgs.gov/