This giveaway has closed and we've contacted the winner. Hopefully it's you!
Thanks everyone for participating. Check back because you never know when another giveaway might come along...
It's time for a giveaway here on the Preparedness Pantry Blog, don'tcha think? The giveaway prize is two cans of Provident Pantry™ Whole Egg Powder—a #10 can and a MyChoice™ can. So, if you win you'll have a smaller can to experiment with now, plus a large can to keep in your long-term food storage for the future!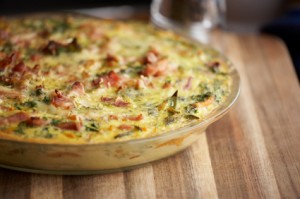 Whole Egg Powder is a versatile product—you can use it to make scrambled eggs, frittata, or quiche (we suggest adding powdered milk for better results when you're using the Whole Egg Powder instead of Scrambled Egg Mix), plus you can add it to baked goods in place of fresh eggs. Anywhere you would use fresh whole eggs, these make a great substitute—and they're stable on the shelf much longer than fresh eggs, too! To enter, just leave a comment on this post telling us what recipe(s) you'd like to try if you win. If you came to this post from Facebook, be sure to comment here on the blog, not just on FB. That's it, folks! Good luck. --Sarah P.S. We'll pick a winner next Tuesday, so you've got the long weekend to think about what you want to make and spread the word about the giveaway.
The winner will be contacted via email. If you are the winner and do not respond to our email within 3 business days, you will forfeit your right to the prize and another winner will be chosen.
All entries will be verified. Contest is open to all customers with a US shipping address; however, free shipping of the Weekly Wednesday Giveaway is included for the winner to the 48 contiguous United States only. For any locations outside this area, the winner is responsible for arranging and paying their own shipping costs. If you purchase a Weekly Wednesday Giveaway item during the giveaway and win, we will send you an additional item or issue you a refund for the product you purchased—whichever you prefer.
This promotion is in no way sponsored, endorsed or administered by, or associated with, Facebook, Twitter, Wordpress or Pinterest. Your entries are going to Emergency Essentials and not to Facebook, Twitter, blogger or Pinterest. Facebook, Twitter, Wordpress, or Pinterest is in no way responsible for any part of this giveaway.
Employees of Emergency Essentials, Inc. and their immediate family members are not eligible for the giveaway.