Just yesterday, the Northeast was experiencing spring-like weather with temperatures ranging from 50 to 60 degrees. Today, they're bracing for enormous amounts of snow.
According to the New York Times
, up to 18 inches is expected through the end of the day. That's a lot of snow in a very short amount of time. [caption id="attachment_21486" align="alignright" width="300"]
Winter Storm Niko - via BRG[/caption] In preparation for Winter Storm Niko,
schools have shut down
and over
2,700 flights
have been cancelled. Some employees have been told
not to come in for work
. It's a good day to curl up under a blanket with a mug of hot chocolate and a good book. Of course, weathering a winter storm is all fun and games
until the power goes out
. If you're in the region being blasted by Winter Storm Niko, then it may be too late to gather the necessary goods. However, just because you're not being bombarded by snow doesn't mean you shouldn't still prepare. After all, milk sandwiches don't live up to the hype. So what do you do? Easy. Get blankets for warmth. If you can, invest in an
indoor generator
to power your
indoor-safe heater
. Get your preparations together early, before the storm. My wife lived through the
Kentucky ice storm of 2009
. Living with her family at the time (I didn't know her then), her family (along with 100,000 other homes) were left without power. No power meant no cooking on the stove, no warming food in the microwave, and no heater for warmth. Luckily, they had a portable propane stove to cook meals, and they wrapped themselves up in blankets to stay warm. They were stuck in their home for a few days until the roads were drivable and they could finally leave and stay somewhere with power. A generator certainly would have been useful in that instance. Of course, a generator isn't always a viable option for many. Candles, flashlights, heat packs, and
indoor-safe cooking devices
will always be handy in a pinch. But perhaps one of the most overlooked essentials for being cooped up for a day or more is a
good book and excellent board games
. There's nothing worse than being trapped inside with nothing to do.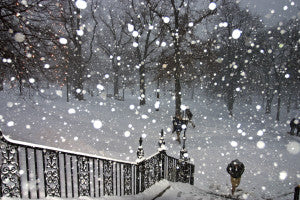 There's a lot to be said about preparing early. Even if you're not in an area that's a hot bed for certain disasters (like Kentucky and snow storms), it can still happen. And if one specific disaster doesn't, another one most likely will take its place. Your preparations for a winter storm can pave the way to weathering any threat that comes your way, including job loss, accident, or other disasters and emergencies. So while you watch the snow pile up on the Northeast, take some time to think about your prep and how you would fare if you were faced with a similar challenge. Then, update what needs to be updated, restock low quantities of food, batteries, books, board games, et al., and smile with the peace and comfort that comes with being prepared.
Written by Steven M.