This post is part of our 2013 12 Days of Christmas, 12 Days of Giveaways series. This series will run from December 3rd to December 18th, 2013. Each giveaway is open for three calendar days. Special offers are open as long as supplies last. Entries must be submitted by 11:59 p.m. Mountain time on the 3rd day. This Giveaway is Closed.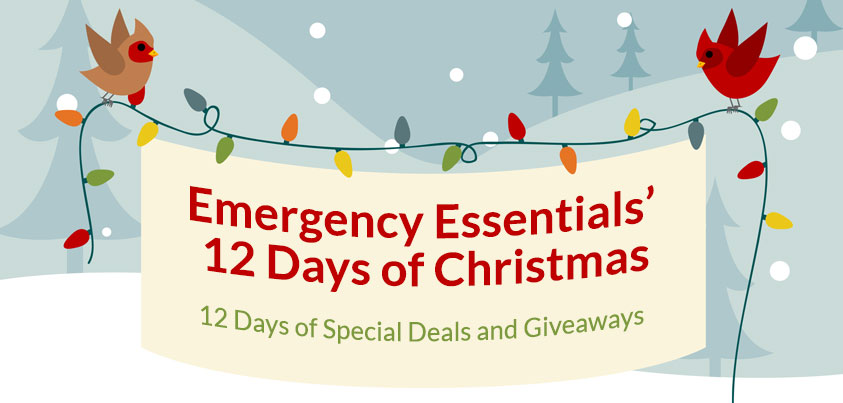 On the first day of Christmas my true love . . . I mean, Emergency Essentials . . . gave to me: Emergency Warrrr-mth (warmth) Items! Today's giveaway features the Hotspot Holiday Gift Combo and an
Emergency Sleeping Bag
. This is the gift that literally keeps on giving (well, at least until you've given away all the HotSpot gifts . . .). Here's a brief summary about each of the products: what they can do, why you want them, and how they work. (Reading this summary will probably help you to answer the quiz below—hint, hint.)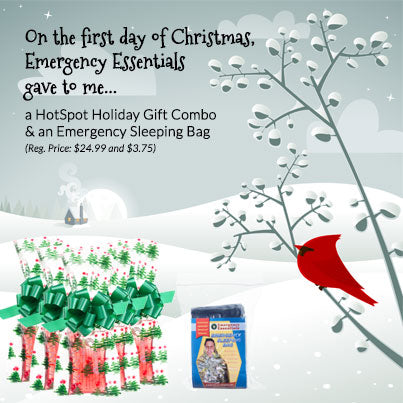 HotSpot Holiday Gift Combo: This item includes 10 HotSpot hand warmers, 10 bags, and 10 bows to make your holiday shopping quicker and easier—10 instant gifts for FREE. These are the perfect gifts for anyone who loves building snowmen, snowboarding, skiing, sledding, or anything cold. They're also great for emergency kits. They stay heated for up to 2 hours. Unlike other hand warmers, you can reuse it by boiling the pouch (covered in a cloth) on a stove top or in a microwave, preferably right after use. The HotSpot™ Reusable heat pack is easy to use: just flex the metal disc and knead the pack to intensify the heat.
Emergency Sleeping Bag
: This compact full-body-coverage emergency sleeping bag, will keep you warm and dry during an emergency or while camping or hiking in the cold. This bag is designed to reflect up to 80% of radiated body heat to help preserve crucial warmth and keep warmer longer. This bag could help prevent hypothermia, frostbite, and other cold-related concerns. It's the perfect item for emergency kits or to store in your car's glove compartment. This bag will cover you head to toe, but is small enough to fit into your pocket. Enter to win these products by taking the quiz below and get a second entry by sharing today's giveaway post that's up on Facebook. You have until Thursday, December 5th, 11:59 p.m. Mountain time to enter this giveaway. Good luck!