Believe it or not, building a raised garden bed is pretty easy. As a quick intro, the benefits of using garden beds are: - You don't have to pull rocks out of the ground (unless you need to create a flat area). Just build on top. - Raised garden beds make for tidy, manageable plots. They're easy to walk between so you can tend the plants easily. Generally there will be fewer weeds which means less weeding! - A raised garden bed gives your plants better drainage, which usually results in more produce. - More produce means more food for your food storage and emergency supplies!
Another great thing about building your own raised garden beds is that you can customize the look and shape to fit the area you have. Do you want a long rectangle, a square, or maybe even a triangle? Are you going to bury them in the ground a few inches, bury posts at each end, or just set them on top of the soil? You decide what works best for you! As usual,
Popular Mechanics
has an
informative post on building a raised bed garden.
Here's a
video from Patti Moreno
, of Garden Girl TV. Following her step by step instructions will make building raised garden beds
so
easy! Even better, she includes these two tips, just in time for Earth Day.
Use untreated wood. Pressure treated wood has chemicals that you definitely don't want transferring to your vegetables.
When possible, use recycled materials like wood from that old barn or shed you're pulling down. Using recycled materials helps the earth by keeping stuff out of landfills and processing plants. And it lends your garden a sense of history.
Sunset
also has a comprehensive article that gives
you a step-by-step guide
and offers specific style ideas, including some that use unexpected styles and materials. Speaking of alternative styles and materials, have you ever considered building a raised garden bed out of concrete construction blocks? Doreen G. Howard at
The Old Farmer's Almanac
says that using cinder blocks,
… [has] a big bonus. Their holes can be filled with soil mix and planted with herbs or strawberries.
The extra gathered heat from concrete is perfect for Mediterranean-type herbs such as rosemary and lavender. Strawberry plants grow huge and fruit fast in the holes. Each block is 16 inches long by 8 inches high; I purchase mine at big box stores as I Replace the price most reasonable. Beds of 13 feet or longer by 4 feet wide are cheaper to build using blocks than with cedar boards.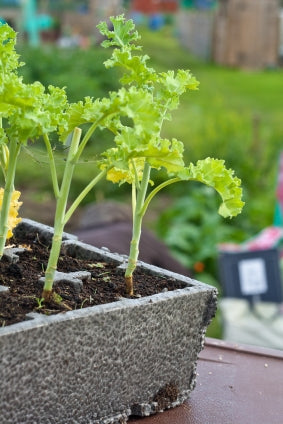 Whatever you choose use for building your raised garden bed, any of the articles above will tell you what you need to know to get the job done. Happy gardening!