Last month we wrote about
raising rabbits as food storage
. We noted that you'll quickly have a lot of rabbits on your hands. Do you have plans for those rabbits? Here's a post about canning rabbit (and chicken) meat. You'll definitely have enough meat to eat fresh and to store. For ideas on how to prepare rabbit, check out
Food.com's rabbit recipes
. Livestrong.com also recommends rabbit as a tasty, lean meat.
Click here
for recipes on how to bake, barbeque, or stew rabbit meat.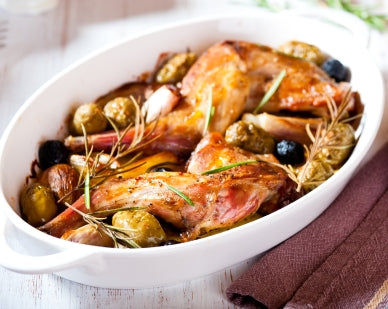 For putting up your own rabbit meat, you might consider salt curing, brining, smoking, or pickling the meat. Or you can try one of these more common techniques:
Can it.
Granny Miller has a lot of information on how to can rabbit and other small game. Step-by-step instructions give you background, and then walk you through the process. She also gives you some good tips like this about what to do with giblets,
"can the livers in their own jar because the liver taste will transfer to the other giblets. I always save the livers, kidneys, hearts and other bits when processing harvested animals. Even if I don't eat those parts, my dogs and cats will."
Backwoodsbound.com
has a brief post on turning rabbit meat into jerky. You'll need a food dehydrator, or a reliable oven that will maintain a temperature of 150-200° F for about 8 hours.
Freeze it.
You should probably use frozen meat within a few months; it might last longer if you vacuum pack it. Here are some guidelines on "shelf life" of frozen meats, from
eHow.com
.
"Label and date each package with a permanent marker. Then practice FIFO - first in, first out - which reduces the risk of freezer burn and spoilage. Plus you'll know what's in the package. Even when properly packaged, frozen meats have only several months of shelf life. For quick reference: chops, 6 - 12 months; ground meat, 2 to 3; roast, 6 to 12; steaks, 6 to 9; and stew meat, 2 to 3. A whole bird will keep up to 12 months; pieces up to 9 months."
We're interested in hearing about your experiences preserving meat. What kinds of meat do you preserve, and what method do you like best? Let us know in the comments.