We've been having our own version of March Madness here at Emergency Essentials. We've had a blowout sale on the Provident Pantry Freeze Dried Strawberry Banana Blend and a big discount on all Mountain House #10 cans – that's on top of
our Group Specials
and
monthly sale
items. Just in case you haven't seen this month's sale prices on select food storage items and cool gear you can check them all out
on our website
. Here are a few of the items that I think you should check out.
Year Supply of Grains for $314.99!
This year supply features four of the most commonly eaten grains; Hard White Wheat, Hard Red Wheat, White Rice, and Rolled Oats. These grains are a basic element of your food storage foundation. Each of the grains in this combo comes in a 6 gallon SuperPail™ with a metallized bag.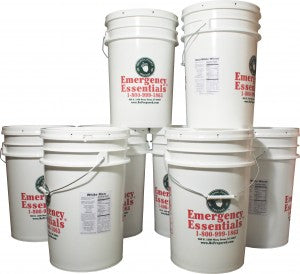 We've put
all the Hot Chocolates mixes on sale
! You can choose single MyChoice size and #10 cans, or you can choose the full Hot Cocoa Combo in a My Choice or #10 size. Either way, you'll save big and provide a little luxury for your family. I am happy to report that the Provident Pantry Hot Cocoas are creamy – just how I like my hot chocolate. Provident Pantry hot chocolate is a just-add-water item and still comes out creamy because of the dehydrated milk included in the mix. In fact, you can adjust the recipe to your taste. If you like it less creamy, just add more water. Hot or cold*, Provident Pantry's hot chocolate is delicious. The four featured flavors are Milk Chocolate, French Vanilla, Raspberry, and Mint Truffle. (I am partial to the Milk Chocolate with a tablespoon of
Provident Pantry's Peanut Butter Powder
added in!)
And now for something completely different…
the Wonder Clean Washer
. Not many of us think about how we're going to wash clothes during an extended emergency or disaster recovery period. You can, of course, scrub everything by hand on a rock in the river. Or you can get this 15-quart hand-crank washer and save your skin. Sure, you'll still have to put in effort, but you won't rub your knuckles raw! Check out
the Wonder Clean Washer, on sale for $42.99.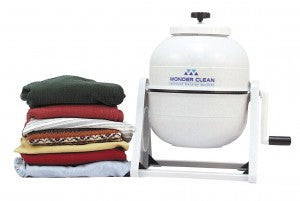 We've got deals on more cool gear like the Hawker knife, the Basics Emergency Kit, the Sport Solar Oven (a favorite!), and the High Uinta Gear™ Night Sight Head Lamp. Oh, and there's a great sale on the Katadyn Pocket Water Filter. It's a
very
impressive water filter. Click here to peruse
all of the March sales
on
BePrepared.com
.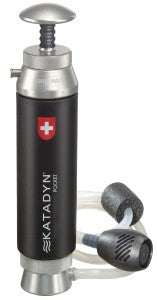 Happy shopping!
*The hot chocolates don't mix as well when you use cold water but they're still delicious. If you want to drink them cold, consider using warm or hot water and letting the drink cool.