Several of the Mountain House Entrees on sale this month include rice. If, like me, you're fond of rice-based dishes, you'll definitely want to try these! Mountain House produces some of the most popular, best-tasting entrees in the business. Most of these meals are fully-cooked before they are freeze-dried, not just made of separately freeze-dried or dehydrated ingredients tossed together during the canning process. Here are a couple of my favorites:
New Orleans Style Rice with Shrimp and Ham
(Sale price $22.12, regularly $39.49) Reminiscent of Creole Jambalaya, this spicy entrée includes black beans and flavorful seasonings along with shrimp, ham, rice, and vegetables. This dish is a quick, hot meal to make on a cold winter evening!
Sweet and Sour Pork with Rice
(Sale price $27.75, regularly $39.49) Pork, rice, onions, green and red peppers, all in a delicious pineapple sauce—yumm, a taste of the islands! We just sampled this yesterday, and the flavors blend beautifully. The pork is in small-enough pieces that it reconstitutes quickly and completely, and the pineapple and peppers balance each other nicely. The "sour" part is just right—not overwhelming.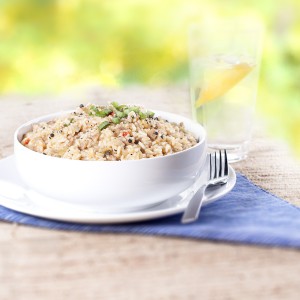 Other rice-based entrees include
Rice and Chicken, which combines bites of chicken with perfectly-seasoned rice and bits of pimiento.
Mexican Style Rice and Chicken, which features scrumptiously spicy chicken, brown rice, tomato, kidney beans, olives, peppers, and onions, as well as a wealth of spices to warm up your winter.
Chicken Teriyaki with Rice, including bamboo shoots, mushroom, bell peppers, peas, and onions in a tangy teriyaki sauce which one reviewer said "passed the picky teenage daughter test."
These are just a few of the great Mountain House products we have on sale this month. Check out all the
Mountain House cans
at beprepared.com. You can buy with confidence, knowing our satisfaction and low-price guarantees are there to back up your purchase. I'm planning to stock up this month—how about you? --Sharon