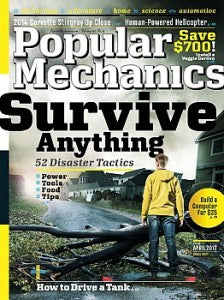 Hi Team, It shouldn't come as a surprise that preparing for unexpected events is becoming more and more common. With tv shows pushing everything from wilderness survival to zombie warfare, prepping is going mainstream. So mainstream that even Popular Mechanics is getting in on the trend. This April 2013 the PM cover will read,
Survive Anything
. In anticipation of their April mag, Popular Mechanics has posted several prepper-related articles on their website. Here's an excerpt from
How to Stock Your Disaster Pantry
(via instapundit):
[...] We filled our pantry with enough food to build a 30-day diet made up of 55 percent carbs, 25 percent fats, and 20 percent protein. That puts us within the 2010 dietary guidelines suggested by the USDA for all age groups.
Emergency Essential's Year Supplies
provide a good balance of carbohydrates, fats, protein AND essential vitamins and minerals. If you'd like to analyze the content of your food storage pantry, check out our
Food Storage Analyzer
. It's a great tool! Read more from
How to Stock Your Disaster Pantry
. Look for their other related articles under Survival Tips (some more helpful than others). I think you'd like to read what they have to say, and I'd love to hear your feedback below. Happy reading. Source:
http://pjmedia.com/instapundit/