Yes, you can cook your food using the rays of the sun!
With sunny days on the rise, now is a great time to consider alternative cooking methods, like solar ovens. We think the Sport Solar Oven is a great product so we've put it on sale. Here's a post by our Regional Stores Supervisor, Rob.
I doubted how well the Sport Solar Oven would work and I wasn't alone. The most frequently asked question I get is, "does it really cook food?" usually followed by "so… how does it work then?" When I first used the Sport Solar Oven, in the summer, I went for the gusto with a full meal of dinner rolls, a roast, and potatoes. I put the oven in direct sunlight to preheat; within a short period of time the thermometer was at 300 degrees. I put the food in, and four and a half hours later I had fluffy rolls, a delicious roast, and soft potatoes. My doubts melted away faster than the butter on those rolls! The Sport Solar Oven will work any time of the year, no matter the temperature outside—you just need sunlight. We tried it out at our Northern Utah store on March 9. It was 35 degrees outside (thanks to the wind chill) and there was snow on the ground. It was mostly sunny during our cooking time, with some clouds. The Sport Solar Oven preheated to 275 degrees within 30 minutes, despite the cold conditions. We cooked roast with potatoes in one pot and baked rolls in the second pot. Just like my test during the summer, the food was cooked and ready to eat four to five hours later.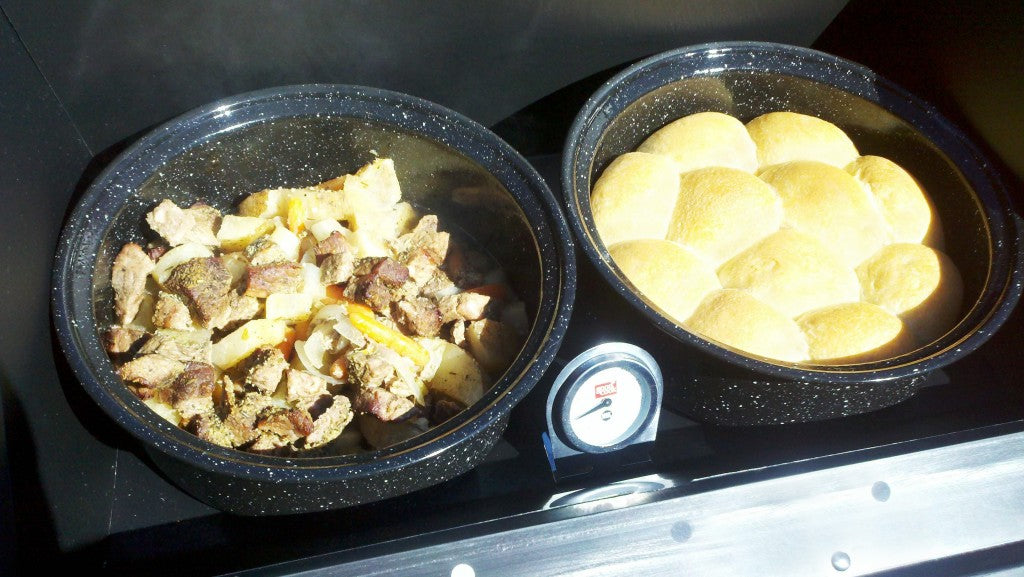 So, how does a solar oven work?
Basically the Sport Solar Oven acts as a slow cooking crock pot that can also bake, generally reaching between 250 and 280 degrees. More specifically, the oven is lined with a dark-colored metal that absorbs the heat of the sun. A clear lid maximizes the direct light and also helps keep the heat in. Optional reflectors compensate for low sun (during winter, fall, and spring). The pots are black, which helps absorb energy as heat. (A similar reaction can occur in your car on sunny days. You may notice that dark materials, such as the steering wheel, are hotter than lighter colored surfaces.)
What if there is no sunlight?
Unfortunately, if there's no sunlight you won't be able to use the Sport Solar Oven. If the sky is overcast or hazy, the oven won't heat up quickly or fully.
Why don't I just use the stove with charcoal all the time?
Plan for all situations, but if you have sunlight, why not use it? It's a natural and free source of power. You'll have reserved your other fuel sources, like charcoal, for times when you don't have other options. If you prefer to cook with fuels like
propane
or charcoal, or if you're looking for a backup to your backup,
click here for some good options
.
Every Saturday this March, we will be testing out other recipes in our solar ovens at our stores. If you live in Utah, stop by and see the Sport Solar Oven in action. If you don't live in Utah, we will be posting pictures and giving updates here on the blog so check back each Monday!
Have you had success with your solar oven? Do you have additional questions? Let us know by commenting below.